We Want to Work with You!
Our state of the art innovation and production facility enables us to contract package for partners of all sizes. We carefully tailor a bespoke solution for every customer, providing expert advice and support as required.
Innovation
We identify emerging food trends and innovate new categories of bold, flavorful foods.
Capabilities
If it's liquid and shelf-stable - we can formulate, manufacture and supply it!
Partnership
We partner with select clients to form collaborative relationships that drive mutual growth.
Flexibility
We can service clients requiring anything from 5,000 gallons to 3.5 million gallons of product per year.
Food safety
Our PCQI certified staff perform multiple tests throughout the production process to ensure quality & safety.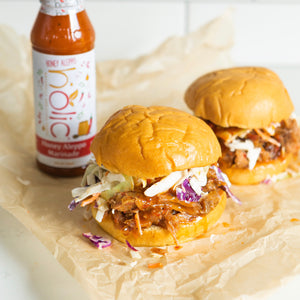 Private Label
We partner with some of America's leading national grocers to provide expert private label sauce, condiment & dip manufacturing. If you're looking to bring innovative, bold-flavor, globally-inspired products to your private-label range, contact us today.
Contact Today
We can handle a wide variety of packaging solutions including virtually all glass and plastic bottles, jugs and squeezable bottles (in sizes from 2 oz. upwards)
We can deliver product in multi-packs, cases, retail-ready displays, trays and pallets.
We also provide turnkey product ideation, branding, marketing, packaging design and bottle sourcing as required.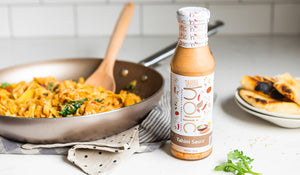 Our Technical Capabilities & Facilities
Our purpose-built manufacturing facility has both the flexibility and capacity to small-batch produce and handle production runs of hundreds of thousands of units.
We have the ability to bottle high-acid product or we can hot-fill (including acidified product) all in an environment that strictly adheres to SQF and HAACP guidelines.
Our flexible production lines accommodate:
• Continuous thread or lug capping
• Induction sealing
• Viscous or non-viscous ingredients
Food Safety & Quality Assurance
We embrace and strictly adhere to a systematic approach to identifying, evaluating and controlling food safety hazards.
Every supervisor in our production team is PCQI certified and receives ongoing training in food safety protocols.
Our quality assurance lab proactively monitors all production runs and performs multiple tests during manufacturing process.