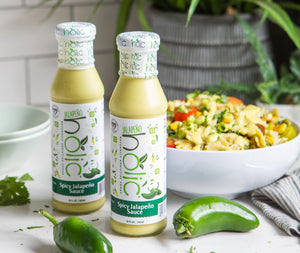 Frances and Tonio Torres fell into the sauce and condiment business by accident.  It all started with what is now our signature product, Jalapeñoholic.
This all-natural, totally crave-able, spicy and velvety sauce was inspired by a locally owned taqueria that the couple visited regularly to get their fix of a wonderful green sauce they served.  They were devastated when the restaurant was sold to new owners and the sauce was taken off the menu. And so they set about creating their own sauce that satisfied their craving. 
Over time, demand for Jalapeñoholic skyrocketed amongst friends and family.  Frances and Tonio started to notice that everyone was using it in place of ordinary condiments and recognized a void of fresh, globally-inspired flavors in the industry.  Because of this, Holic foods was launched to meet the need for clean-label, bold-flavor, globally inspired sauces, dips and condiments that taste so good, they are naturally addictive.  
Our Sauces
Addictive
We make foods that taste so good - they're naturally addictive.
NATURAL
Our foods are wholesome, clean label and simple with no artificial additives or synthetic ingredients.
GLOBAL
We bring our deep knowledge of global ingredients and diverse cultures to you through our sauces.
INNOVATIVE
We identify emerging food trends and build new products featuring bold, flavorful, and global foods.
VERSATILE
Our sauces are multi-skilled! Each can be drizzled, dolloped, dipped, dressed and spread!
Where can I buy your products?
Our products are available in more than 2,000 retailers across the USA. To find a store near you, please consult the 'Where to find us' section of this website. You can also order products through this website.
Are all Holic sauces gluten-free?
Yes! All our products are gluten-free and we are inspected annually to ensure this.
What's the best way to store Holic Foods sauces?
Our sauces are all-natural and do not contain any preservatives. Once you've opened a bottle, please store it in the refrigerator and consume it within one month.
I stored Honey Aleppo Holic in the refrigerator and now it's solid – what should I do?
Honey Aleppo Holic is all-natural, and the oils and solids will separate. Sometimes this means that the oil will solidify in the refrigerator. Simply leave it out of the refrigerator for ten minutes to bring it back to room temperature – or run the bottle under a hot tap for a minute - remember to give it a good shake to mix up all the honey and Aleppo pepper yumminess!
Are your sauces non-GMO?
All of our sauces are non-GMO. We are in the process of becoming certified by the Non-GMO Project – and at this point we will carry this certification on our packaging. Until then, please take it from us – Boy Scout's Honor!
What is your refund policy?
If you are unhappy with any of our products, for any reason, we will provide you with a replacement (or a refund of the product purchase price if bought through our website). Please contact us at customerservice@holicfoods.com with any questions.